The Pusri LTD's Deer Breeding
---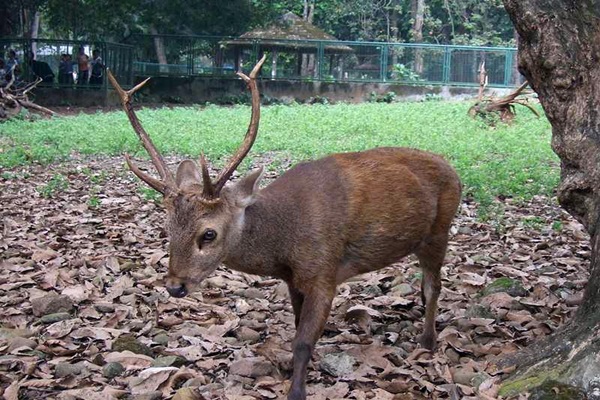 Palembang is an enormous city. Many tourists come here for a meaningful vacation. It is because the city has lots of interesting places to visit. This includes a deer breeding of Pusri Limited Liability Company. Tourists can witness many deer around this area. The company pays a good attention to the animal preservation. At the first time, it was only the place to captivate the deer. Today, it becomes an interesting tourist spot in Palembang. It was built in 2008 and it bought the deers from Cisarua's animal breeding.
Things to Enjoy in Pusri's Deer Conservation
In this area, tourists can witness dozens of deer. The most famous species is the Axis-Axis. Local people call it "Rusa Tutul". It has brown skin with white dots. The lifespan is about 15 years and it weighs approximately 75 kilos. Actually, this species originates from Srilanka and India. It entered Indonesia in 1814. Thanks to Stanford Raffles. Tourists can also find Sambar Deer. It also originates from India. A unique characteristic is its size. This species is considered big. An adult male can even reach more than 500 kilos.
Apart from the deer, tourists can also enjoy a soothing atmosphere here. The deer breeding is surrounded by trees. It is a comfortable place to relax. Many families come here to introduce couples of deer to their kids. In fact, they can touch and feed the deer freely. Many local people come to this location. Today, visitors also come from outside Palembang. They have heard about the popularity of this tourist spot. PT. Pusri has been a famous place among tourists recently.
Even though PT. Pusri has an interesting deer breeding, it isn't an official tourist destination. It remains a producer of fertilizer. It also features a comfortable complex of residents. There is a multi-purpose building near to the manufacturer. It can be used by publics for a meeting, wedding reception, and much more. In front of it, there is a golf course. It becomes a reason why tourists often visit this area. Another famous place is the park. Visitors can enjoy its fresh and solemn atmosphere.
The most famous attraction in PT. Pusri is definitely the deer breeding. It attracts many visitors recently. No worries. There are numerous attractions as well. These include a soccer field, a swimming pool, a badminton field, a library, and much more. Visitors are able to take some pictures, too. They may hold the deer and take a memorable picture of it. PT. Pusri also has a private port. They distribute most of their products through it.
How to Get There
PT. Pusri has an easy access. That means tourists won't get troubled visiting it. From Palembang city, people can use Trans Musi. They must choose Pusri line. This public transportation may deliver them directly to such manufacturer. That means the simplest medium is by land. As an alternative, they can go by river. They can hire a local boat. It seems uncomfortable, though. Most of the visitors come by land, after all. Not to mention it doesn't take much time.

Latest News
Lake Toba not only offers natural tourism, but also cultural tourism. One of the cultural attractions that can be visited is Huta Tinggi Village on Samosir Island, North Sumatra. This village offers tour packages with the life of the Batak people theme who live in the area. If you choose the tour package, visitors will participate in various local community activities, from milking buffalo, to enjoying the view of the lake on the hill. Playing Musical InstrumentsHuta Tinggi Village visitors will be greeted by the strains of traditional Batak music…
---
Bumiayu Temple Bumiayu temple is one of heritages from Hindu era. It located in coastal river of Lematang, administratively in Bumiayu village, Tanah Abang sub-district, Penukal Abab regency, Pematang Ilir. This temple is the only complex of temples in South Sumatra. Until today, there are less than 9 temples that been found in this area, and four of them have been restored, those are Temple 1, Temple 2, Temple 3 and Temple 8. This preservation has begun since 1990 till now. This temple complex covers an area of 75.56 ha,…
---
Compared to other areas in the vicinity, one of the attractions in the city of Palembang, South Sumatra has a higher contour, about 27 feet above sea level, and is touted as the highest position in the city. However, rather it is a privilege Siguntang Hill. Log into the region, people may think that this place is a garden complete with shady trees and benches that can be used to spend the day. But who would have thought if the Mount Siguntang is an important historic place, especially for Palembang.…
---
Mount Dempo is one of the natural attractions Lahat regency. The highest mountain in South Sumatra, this can be achieved directly from Palembang by private vehicle for about 6 hours, a distance of over 295 km. Can also use the public bus from Lahat to Pagar Alam (60 km), and from here followed by another bus travel a distance of 9 km up to the plantation and tea factory mountainside. You can stay in the mess that is available while enjoying the beautiful natural scenery around it. But if you…
---