Dewi Kwam Im Temple – A Holy Place of Three Religions
---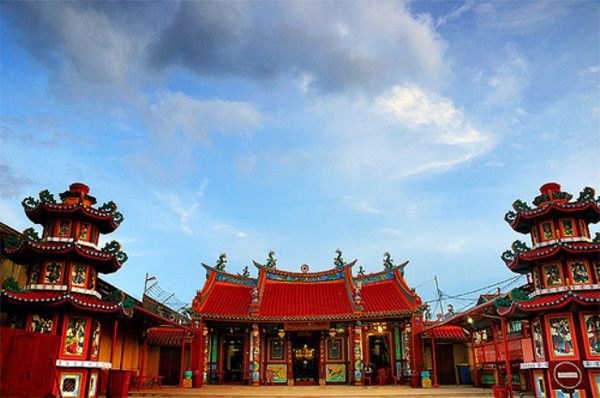 Palembang is a praiseworthy place to visit. There is an old temple here. The name is Dewi Kwam Im Temple. It is also called Chandra Nadir or Soei Goeat Kiang Temple. It is located in 10 Ulu Village. One of the attractions is an old tomb of Ju Sin Kong. Local people call him Apek Tulong. He was actually a Chinese-Muslim. The temple is popular among worshippers and tourists. The rumor has it. Pilgrims may be blessed with healthy and prosper life once they visit the temple.
About Dewi Kwam Im Temple
Dewi Kwam Im Temple is used by three different religions. It accommodates Taoists, Buddhists, and Confucianists. All of them do prayers harmoniously among incense aroma is quite strong inside the temple. In fact, it is one of the media to connect to the God / Thien / Sky. There are also some altars in this temple. For example, there is the altar of the Sea Ruler (Dewi Maco Po). The most famous one is definitely the Dewi Kwam Im altar, the Goddess of Aid.
In the breech, there is a special altar. It stores numerous statues, which are left by visitors. Another altar is the Ju Sin Kong. He is the guardian of Palembang city. The thing is he was a Muslim. With these attractions, more tourists would definitely come here. The best time to visit Dewi Kwam Im Temple is during the Cap Go. Much Chinese come here for praying. They look for blesses such as prosperity, health, luck, etc. At that time, visitors may expect a crowded atmosphere. This makes a good vacation, though.
The temple is also crowded during Imlek. Lots of people come here to commemorate such event. Once they do prayers in Dewi Kwam Im Temple, they may continue to explore other temples. Some tourists are attracted to the temple's architecture. It applies both Malayan and Chinese style. The smell of the incense may hypnotize everyone. It will be an exceptional vacation in Palembang. Plus, there is the chance to enjoy delicious Pempek nearby. The temple is situated in 10 Ulu. This is the home of Pempek sellers. Finding a food stand is easy.
Things to Know
One thing, Dewi Kwam Im Temple is a holy place. Visitors shouldn't make a fuss inside. Not to mention there are some rules to follow. It is important to wear neat and clean clothes. The purpose is to show respect to the temple. It is the place for praying. That means the temple is quite tranquil. That means no chatting and laughing. It is allowed to take some pictures. Though, it shouldn't include the flash.
How to Get There
Usually, tourists visit Dewi Kwam Im Temple by water. They ride a traditional boat from nearest ports. It can be either from 16 Ilir port or Benteng Kuto Besak. The cost of the river transport varies, though. It depends on the season a number of passengers. Another method is by land. Tourists need to pass through the Ampera Bridge and head to Ahmad Bastari Street. Next, they should reach Perikanan Street. From here, the temple should have been spotted. That's all.

Latest News
Lake Toba not only offers natural tourism, but also cultural tourism. One of the cultural attractions that can be visited is Huta Tinggi Village on Samosir Island, North Sumatra. This village offers tour packages with the life of the Batak people theme who live in the area. If you choose the tour package, visitors will participate in various local community activities, from milking buffalo, to enjoying the view of the lake on the hill. Playing Musical InstrumentsHuta Tinggi Village visitors will be greeted by the strains of traditional Batak music…
---
Bumiayu Temple Bumiayu temple is one of heritages from Hindu era. It located in coastal river of Lematang, administratively in Bumiayu village, Tanah Abang sub-district, Penukal Abab regency, Pematang Ilir. This temple is the only complex of temples in South Sumatra. Until today, there are less than 9 temples that been found in this area, and four of them have been restored, those are Temple 1, Temple 2, Temple 3 and Temple 8. This preservation has begun since 1990 till now. This temple complex covers an area of 75.56 ha,…
---
Compared to other areas in the vicinity, one of the attractions in the city of Palembang, South Sumatra has a higher contour, about 27 feet above sea level, and is touted as the highest position in the city. However, rather it is a privilege Siguntang Hill. Log into the region, people may think that this place is a garden complete with shady trees and benches that can be used to spend the day. But who would have thought if the Mount Siguntang is an important historic place, especially for Palembang.…
---
Mount Dempo is one of the natural attractions Lahat regency. The highest mountain in South Sumatra, this can be achieved directly from Palembang by private vehicle for about 6 hours, a distance of over 295 km. Can also use the public bus from Lahat to Pagar Alam (60 km), and from here followed by another bus travel a distance of 9 km up to the plantation and tea factory mountainside. You can stay in the mess that is available while enjoying the beautiful natural scenery around it. But if you…
---