Visiting a Historical Bayumi Wahab Mosque, Palembang
---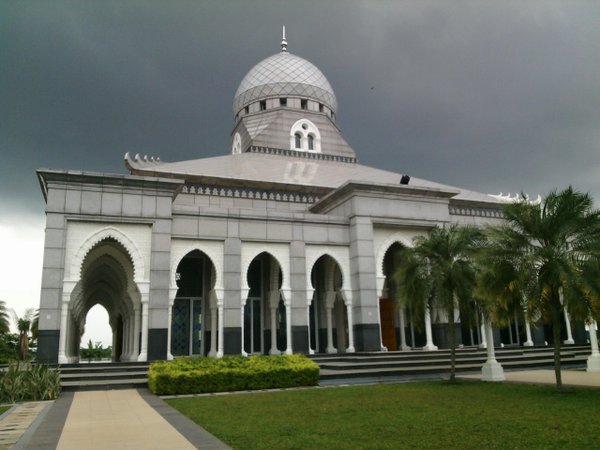 Palembang is a worth to visit. It is the capital of South Sumatra, Indonesia. It is also the second largest cities in Sumatra Island. When it comes to tourist destinations, Palembang offers numerous attractions. For example, there is the historical Bayumi Wahab Mosque. It is located in Tanjung Sejaro village, Ogan Ilir. The mosque is located in the midst of the village. There are many traditional houses around it. Not to mention there are astonishing rice fields nearby. Visiting Bayumi Wahab Mosque gives a unique experience for tourists.
About Bayumi Wahab Mosque
The name of the mosque comes from a famous person. He was H. Bayumi Wahab who recognized as a local tycoon. He did many good things back then. He built IBA University in Palembang. The mosque was built by his descendants. It is the way to commemorate his presence in the past. Today, the mosque becomes a perfect place to rest during a trip to East Sumatra. It offers both relaxing and peaceful atmosphere. The mosque features an ample parking lot. No worries. It is free.
Some people take care of the mosque. They clean it regularly. They also take care of visitors' vehicle. In terms of appearance, Bayumi Wahab Mosque applies minimalistic and modern architecture concept. It also applies traditional architecture of Palembang. Near to the mosque, there are some date palm trees. Not to mention it is quite neat and clean. It is a perfect place for worshipping and relaxing. No wonder, more people come to the mosque either to worship or rest. It has been managed professionally by the staff.
Most of the tourists love its architecture. The mosque combines modern and traditional concept. The roof of the mosque applies Limas concept. There is also a tower. It has the height of 28 meters. No wonder, it appears to be a majestic mosque. Plus, it is located in a strategic location. Many travelers stop by for relaxing and worshiping. Some of them take an opportunity to take pictures. In fact, local people often use the yard for a pre-wedding session. Bayumi Wahab Mosque is surrounded by beautiful date palm trees and grasses. What a beautiful structure!
The House of Bayumi Wahab
The next destination will be the house of Bayumi Wahab. It is also a famous tourist spot in Palembang. As the name suggests, it is the house of such famous person. It is located in Perwari Street, which is near to IBA. He had a good influence to the village. Today, the mosque and this house have attracted more tourists over time. Though, there is only a security in it. It's because the descendants of Bayumi Wahab moved to Jakarta.
How to Get There
It is easy to reach Bayumi Wahab Mosque. Tourists should only follow the East Palembang Causeway. The destination is Tanjung Sejaro Village, Indralaya. The best transportation is a car. Actually, a public bus isn't a bad idea. It doesn't take much time, in fact. The road is smooth and the traffic is low. Everyone can reach the mosque without hassle. It will be a unique vacation experience for them. The mosque is both beautiful and comforting.

Latest News
Lake Toba not only offers natural tourism, but also cultural tourism. One of the cultural attractions that can be visited is Huta Tinggi Village on Samosir Island, North Sumatra. This village offers tour packages with the life of the Batak people theme who live in the area. If you choose the tour package, visitors will participate in various local community activities, from milking buffalo, to enjoying the view of the lake on the hill. Playing Musical InstrumentsHuta Tinggi Village visitors will be greeted by the strains of traditional Batak music…
---
Bumiayu Temple Bumiayu temple is one of heritages from Hindu era. It located in coastal river of Lematang, administratively in Bumiayu village, Tanah Abang sub-district, Penukal Abab regency, Pematang Ilir. This temple is the only complex of temples in South Sumatra. Until today, there are less than 9 temples that been found in this area, and four of them have been restored, those are Temple 1, Temple 2, Temple 3 and Temple 8. This preservation has begun since 1990 till now. This temple complex covers an area of 75.56 ha,…
---
Compared to other areas in the vicinity, one of the attractions in the city of Palembang, South Sumatra has a higher contour, about 27 feet above sea level, and is touted as the highest position in the city. However, rather it is a privilege Siguntang Hill. Log into the region, people may think that this place is a garden complete with shady trees and benches that can be used to spend the day. But who would have thought if the Mount Siguntang is an important historic place, especially for Palembang.…
---
Mount Dempo is one of the natural attractions Lahat regency. The highest mountain in South Sumatra, this can be achieved directly from Palembang by private vehicle for about 6 hours, a distance of over 295 km. Can also use the public bus from Lahat to Pagar Alam (60 km), and from here followed by another bus travel a distance of 9 km up to the plantation and tea factory mountainside. You can stay in the mess that is available while enjoying the beautiful natural scenery around it. But if you…
---