Jakabaring Sports City Palembang
---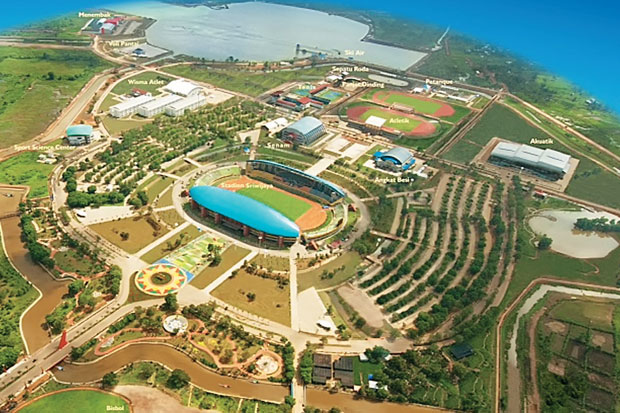 Many people have heard about JSC or Jakabaring Sports City. In fact, it is one of the best tourist spots in Palembang. As the name implies, it is the center of sports facilities. It is located in Seberang Ulu. Most of the people recognize it as the home of PON 16th and SEA Games 26th. Today, tourists visit JSC to explore some majestic facilities and the famous Gelora Sriwijaya Stadium. Even though JSC is a well-known tourist spot, it had been a scary place back then. Not many people know about the story behind it.
About Jakabaring Sport City
Jakabaring Sports City was a deserted land. Most of the part was swampy. Many crimes happened in this area. People were afraid getting near to this location. It could be either due to mystical or criminal aspects. However, the local government had made a significant decision. They turned the area into a sports complex. Today, JSC is recognized as an international sports center. Palembang should be proud of it. The best attraction is definitely the stadium. It can accommodate more than 35,000 people. The stadium is used for numerous athletic sports, especially soccer.
Things to Do in JSC
JSC also offers a comfortable environment. It is surrounded by some plants and trees. Not to mention there are parks and canals. Tourists are able to enjoy a soothing ambiance here. Most of the visitors are families. They want to do sports. Also, they can simply relax in the nearby parks. There are no more haunted spots. The government has turned this location into a modern and comfortable sports center. Jakabaring Sports City becomes a primary destination when visiting Palembang.
Jakabaring Sports City also has a lake. Tourists can enjoy Water Sky Sport here. No worries. There is no entry fee. Visitors only need to pay the parking fee. Due to this reason, more tourists come to enjoy numerous sports with their friends or families. JSC is also suitable for relaxing. Many young couples often visit JSC. They want to spend a good time and enjoy solemn atmosphere near to the stadium.
Tourists can do many things in Jakabaring Sports City. Mostly, they come due to a particular sports event. Though, JSC offers some alternatives. Some people also come here for a prewedding photo session. Also, they want to enjoy a beautiful sunset. The best location is near to the lake. People may gather here and enjoy a romantic sunset every day. Moreover, there are some food stands nearby. Tourists can buy some snacks and drinks easily. The best options are Batagor, Empek-empek, and Red Beans.
How to Get There
It is easy to reach Jakabaring Sports City. From Palembang city, tourists need to spend about 20 minutes of driving. If they come from Sultan Mahmud Badaruddin Airport, it takes about 50 minutes. There are many options for transportation. These include a rented car, Bajaj, taxi, minibus, etc. The best choice is a private car. They only need to head to Ampera Bridge and reach Parameswara fountain. It is the iconic landmark of the JSC. That means they have arrived at the location.

Latest News
Lake Toba not only offers natural tourism, but also cultural tourism. One of the cultural attractions that can be visited is Huta Tinggi Village on Samosir Island, North Sumatra. This village offers tour packages with the life of the Batak people theme who live in the area. If you choose the tour package, visitors will participate in various local community activities, from milking buffalo, to enjoying the view of the lake on the hill. Playing Musical InstrumentsHuta Tinggi Village visitors will be greeted by the strains of traditional Batak music…
---
Bumiayu Temple Bumiayu temple is one of heritages from Hindu era. It located in coastal river of Lematang, administratively in Bumiayu village, Tanah Abang sub-district, Penukal Abab regency, Pematang Ilir. This temple is the only complex of temples in South Sumatra. Until today, there are less than 9 temples that been found in this area, and four of them have been restored, those are Temple 1, Temple 2, Temple 3 and Temple 8. This preservation has begun since 1990 till now. This temple complex covers an area of 75.56 ha,…
---
Compared to other areas in the vicinity, one of the attractions in the city of Palembang, South Sumatra has a higher contour, about 27 feet above sea level, and is touted as the highest position in the city. However, rather it is a privilege Siguntang Hill. Log into the region, people may think that this place is a garden complete with shady trees and benches that can be used to spend the day. But who would have thought if the Mount Siguntang is an important historic place, especially for Palembang.…
---
Mount Dempo is one of the natural attractions Lahat regency. The highest mountain in South Sumatra, this can be achieved directly from Palembang by private vehicle for about 6 hours, a distance of over 295 km. Can also use the public bus from Lahat to Pagar Alam (60 km), and from here followed by another bus travel a distance of 9 km up to the plantation and tea factory mountainside. You can stay in the mess that is available while enjoying the beautiful natural scenery around it. But if you…
---