A Chilling Atmosphere of Palembang Great Mosque
---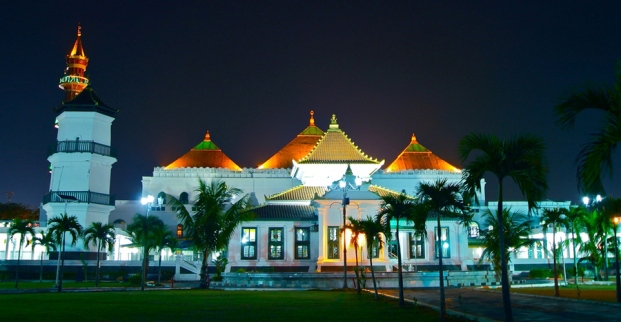 The Great Mosque of Palembang is a famous tourist attraction in South Sumatra. The other name is Sultan Mahmud Badaruddin I Mosque. It was built from 1738 to 1748 by Sultan Mahmud Badaruddin I, also known as Sultan Mahmud Badaruddin I Jaya Wikrama. Some say it was the largest mosque in Indonesia at that time.
From 1819 to 1821, a renovation was made by the Dutch colonial government. After that, further expansions were made in 1893, 1916, 1950s, and lastly in 1990s. During an expansion in 1966-1969 by the Grand Mosque Foundation, its second floor was built covering a land area of 5,520 square meters with a capacity of 7,750 persons. During renovation and development in 1970 by Pertamina, towers were constructed. The original Chinese style tower was maintained as it is now. This mosque is very typical of Palembang tradition with its unique architecture. Most of its timbers have Palembang typical carving called Lekeur. The mosque combined different types of styles like European, Chinese and Indonesian architecture style. The doorway is quite tall and big. The roof of the mosque is similar to a temple. Today, it becomes one of the best mosques in ASEAN. It is located in 19 Ilir, Palembang.
This grand mosque is not only the place for worshiping, but it also becomes a place for religious vacation. There are also some religious events, too. The locals use mosque for wakaf, zakat, charity, and much more. Not to mention there were numerous missionary endeavors. This a great place to relax and find peace. Most Muslims use it as a source of serenity. Visitors can enjoy its comfortable facilities. There is even a park near to the mosque. It can be a place for relaxing.
The Great Mosque of Palembang is located near to 16 Ilir Market. Thus, many worshipers come here every day. There are also some merchants. They come to the park to sell their products. It is because the management allows them to do so. These sellers often wait for the prayer time. During that moment, they offer their items to visitors. No wonder, visitors often come here to buy something. The thing is many non-Muslims also come to the mosque. They want to appreciate this amazing building. Not to mention they can buy unique items nearby.
The local government tries to improve the Great Mosque of Palembang's facilities. The purpose is to attract more tourists. It is not only for Muslims. There is also a tunnel that connects the mosque to Kuto Besak Fort, 16 Ilir Market, and the local monument. That means tourists can simply go back and forth to this mosque. The best part is the location was situated in a strategic location. Tourists can find several accommodations nearby. These include local homestay and starred hotels.
Tips for Travelers
Once tourists enjoy a religious vacation to the Great Mosque of Palembang, they should visit the nearest tourist attractions. For instance, there is a local market. This is the right place to buy foods and merchandises. The best item to buy is Songket fabric. It is a valuable item in Palembang. Also, they must try local culinary. Pempek is the best option. It is both savory and delicious. What about the drink? There is the fresh iced starfruit drink.
How to Get There
The access is hassle-free. The first destination should be Palembang city. For those who live outside Palembang, there are some flights available. The next trip is using land transportation to the mosque. These include a rented car, taxi, ojek, or other types of public transports. The best time to visit the Grand Mosque of Palembang is on Friday. Local merchants gather here to sell items like sandals, religious books, clothes, etc. There are also local foods, especially Gulo Puan.

Latest News
Lake Toba not only offers natural tourism, but also cultural tourism. One of the cultural attractions that can be visited is Huta Tinggi Village on Samosir Island, North Sumatra. This village offers tour packages with the life of the Batak people theme who live in the area. If you choose the tour package, visitors will participate in various local community activities, from milking buffalo, to enjoying the view of the lake on the hill. Playing Musical InstrumentsHuta Tinggi Village visitors will be greeted by the strains of traditional Batak music…
---
Bumiayu Temple Bumiayu temple is one of heritages from Hindu era. It located in coastal river of Lematang, administratively in Bumiayu village, Tanah Abang sub-district, Penukal Abab regency, Pematang Ilir. This temple is the only complex of temples in South Sumatra. Until today, there are less than 9 temples that been found in this area, and four of them have been restored, those are Temple 1, Temple 2, Temple 3 and Temple 8. This preservation has begun since 1990 till now. This temple complex covers an area of 75.56 ha,…
---
Compared to other areas in the vicinity, one of the attractions in the city of Palembang, South Sumatra has a higher contour, about 27 feet above sea level, and is touted as the highest position in the city. However, rather it is a privilege Siguntang Hill. Log into the region, people may think that this place is a garden complete with shady trees and benches that can be used to spend the day. But who would have thought if the Mount Siguntang is an important historic place, especially for Palembang.…
---
Mount Dempo is one of the natural attractions Lahat regency. The highest mountain in South Sumatra, this can be achieved directly from Palembang by private vehicle for about 6 hours, a distance of over 295 km. Can also use the public bus from Lahat to Pagar Alam (60 km), and from here followed by another bus travel a distance of 9 km up to the plantation and tea factory mountainside. You can stay in the mess that is available while enjoying the beautiful natural scenery around it. But if you…
---